Overview
Leg length discrepancy is a condition where the length of one leg is different than the other (shorter or longer) because of either or both a functional (muscle/posture) or structural (bone/cartilage) abnormality. In the specific a functional leg length occurs when your legs are the same, but another condition such as pelvic tilt or piriformis shortening creates the appearance of one leg being longer or shorter than the other. A structural leg length inequality it means that there is a true difference. Osteopaths, chiropractors and physiotherapist should be able to determine the degree of leg length inequality using visual inspection and manual tests.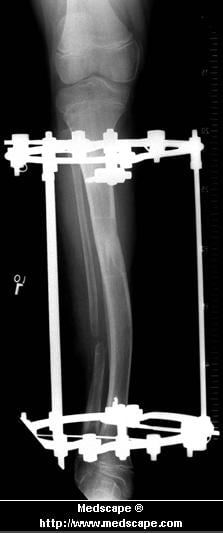 Causes
Some children are born with absence or underdeveloped bones in the lower limbs e.g., congenital hemimelia. Others have a condition called hemihypertrophy that causes one side of the body to grow faster than the other. Sometimes, increased blood flow to one limb (as in a hemangioma or blood vessel tumor) stimulates growth to the limb. In other cases, injury or infection involving the epiphyseal plate (growth plate) of the femur or tibia inhibits or stops altogether the growth of the bone. Fractures healing in an overlapped position, even if the epiphyseal plate is not involved, can also cause limb length discrepancy. Neuromuscular problems like polio can also cause profound discrepancies, but thankfully, uncommon. Lastly, Wilms? tumor of the kidney in a child can cause hypertrophy of the lower limb on the same side. It is therefore important in a young child with hemihypertrophy to have an abdominal ultrasound exam done to rule out Wilms? tumor. It is important to distinguish true leg length discrepancy from apparent leg length discrepancy. Apparent discrepancy is due to an instability of the hip, that allows the proximal femur to migrate proximally, or due to an adduction or abduction contracture of the hip that causes pelvic obliquity, so that one hip is higher than the other. When the patient stands, it gives the impression of leg length discrepancy, when the problem is actually in the hip.
Symptoms
As patients develop LLD, they will naturally and even unknowingly attempt to compensate for the difference between their two legs by either bending the longer leg excessively or standing on the toes of the short leg. When walking, they are forced to step down on one side and thrust upwards on the other side, which leads to a gait pattern with an abnormal up and down motion. For many patients, especially adolescents, the appearance of their gait may be more personally troublesome than any symptoms that arise or any true functional deficiency. Over time, standing on one's toes can create a contracture at the ankle, in which the calf muscle becomes abnormally contracted, a condition that can help an LLD patient with walking, but may later require surgical repair. If substantial enough, LLD left untreated can contribute to other serious orthopaedic problems, such as degenerative arthritis, scoliosis, or lower back pain. However, with proper treatment, children with leg length discrepancy generally do quite well, without lingering functional or cosmetic deficiencies.
Diagnosis
A systematic and well organized approach should be used in the diagnosis of LLD to ensure all relevant factors are considered and no clues are overlooked which could explain the difference. To determine the asymmetry a patient should be evaluated whilst standing and walking. During the process special care should be used to note the extent of pelvic shift from side to side and deviation along the plane of the front or leading leg as well as the traverse deviation of the back leg and abnormal curvature of the spine. Dynamic gait analysis should be conducted during waling where observation of movement on the sagittal, frontal and transverse planes should be noted. Also observe head, neck and shoulder movements for any tilting.
Non Surgical Treatment
In an adult, we find that we can add a non compressive silicone heel lift to a shoe in increments of 3-4 mm maximum per week. Were we to give a patient with a 20 mm short leg, 20 mm of lift all at once, their entire body would rebel. The various compensations that the body has made, such as curvatures and shortening of muscles on the convex side of the curve, would make such a dramatic change not just noticeable, but painful. When we get close to balancing a patient by lifting a leg with heel inserts, then we perform another gait analysis and follow up xray. At that point, we can typically write them a final prescription to have their shoe modified. A heel lift is typically fine up to 7 mm. When it gets higher than that, the entire shoe must be modified. There are two reasons for this. The back of the shoe is generally too short to accommodate more than 7-8 mm inserted inside the shoes and a heel lift greater than 7 mm will lead to Achilles tendon shortening, which then creates it?s own panoply of problems.
Surgical Treatment
For discrepancies over five centimeters, more aggressive surgical procedures-specifically leg lengthening procedures-are typically required. The specifics of this operative procedure are beyond the scope of this informational page, but your child's physician will be able to discuss the details in reference to your child's specific problems when considered appropriate.